Atlas of beetles (Drilidae) of Russia - project by A.G. Kirejtshuk and A. Herrmann
Family Drilidae
Includes 4 genera and over 80 species. Two species from the genus Drilus are known from the South on East Europe.
Tribe Drilini
Genus Drilus Olivier, 1790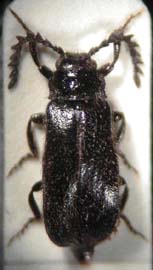 Drilus concolor
(photo by A. Herrmann)
References:
Л.Н.Медведев Л.Н. 1965. Сем. - мягкотелки. В кн.: Определитель насекомых Европейской части СССР. Т 2. Жесткокрылые и веерокрылые. М.-Л.: Наука, 221-227.
Якобсон Г.Г. 1915. Жуки России и Западной Европы. 11 часть. - Санкт-Петербург: Издание А.Ф. Девриена - 1915 - С. 865-1024.
Wittmer, W. 1944. Catalogue des Drilidae E. Oliv. (Coleoptera-Malacodermata). Revista de la Sociedad Entomolуgica Argentina 12: 203-221.
---
---