Cameroon, a country in the tropical belt of Africa, is well known for its diverse wildlife and high degree of endemism. This is particularly true for the chain of ancient volcanoes extending from the island of Bioku (former Fernando-Po, a part of Equatorial Guinea), through Mt. Cameroon further north to Mt. Oku. Visiting these mountains and their forests looking for Coleoptera was the main attraction bringing Bruce Gill and me into Cameroon in May 2006.
---

Cameroon as seen in Google Earth.

The places we visited are (in chronological order): (01.) Mt. Oku ; (02.) Korup National Park; (03.) Mt. Kupe and (04.) Mt. Cameroon at the village of Bakingili (southern slope at sea level).
---

Figure 1. Landing in Douala; Mount Cameroon at the background [Photo B. Gill]


After a six hour flight over the Mediterranean and Sahara we are approaching the second most important Cameroonian city of Douala. The foggy profile of a distant hill above the plane's wing is Mount Cameroon, the highest peak in Western Africa.
---

Figure 2. Lower border of the Oku forest above the village of Elak, Cameroon [Photo B. Gill]


Like almost everywhere in the mountains of tropical Africa, the forest retreats under human pressure. Agricultural land gradually pushes up the slopes. Forest remains on very steep slopes where it is still intensively harvested for wood and other non-timber forest products.
---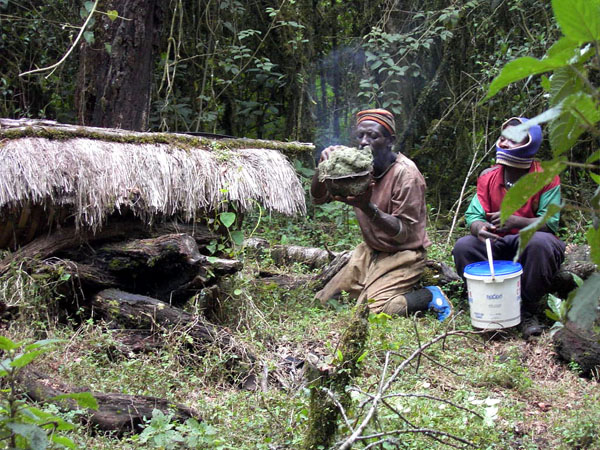 Figure 3. Honey gathering at a traditional hive, Mt. Oku, Cameroon [Photo B. Gill]


Honey gathering is a good example of profit making without destroying the forest. The person on the left is smoking away bees so that honey can be extracted into the bachet held by his assistant. These people are remarkably immune to bee stings as each of them was repeatedly stung. They treated us to honey, but the bees soon recovered from the smick and took revenge on us. Their stings were not very painful, though.
---

Figure 4. Mt. Cameroon as seen from the city of Buea, Cameroon [Photo B. Gill]


Note the reasonably thick forest belt on Mt. Cameroon above the city of Buea. There is a hiking trail from the city up to the summit, and the forest along this trail is partly degraded by human activity (small sugarcane farms, firewood gathering).
---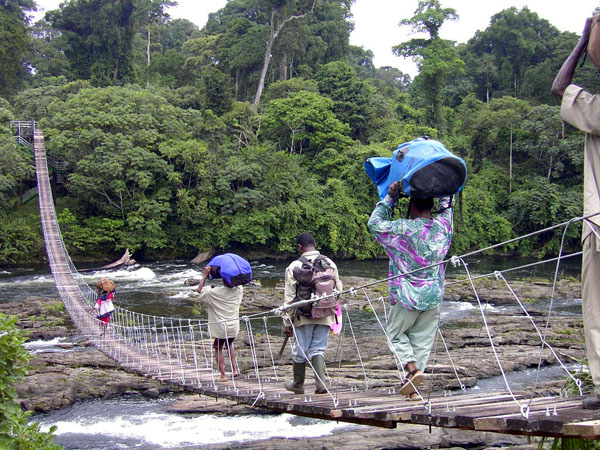 Figure 5. Crossing the suspensoid bridge into Korup National Park, Cameroon [Photo B. Gill]


This bridge is located some 8 km from Mundemba, the nearest settlement and the headquarters of the Korup N.P. Across the river is primary forest bordering with Nigeria. On the opposite side (not shown) hundreds of square kilometres of forest were converted into oil palm plantations.
---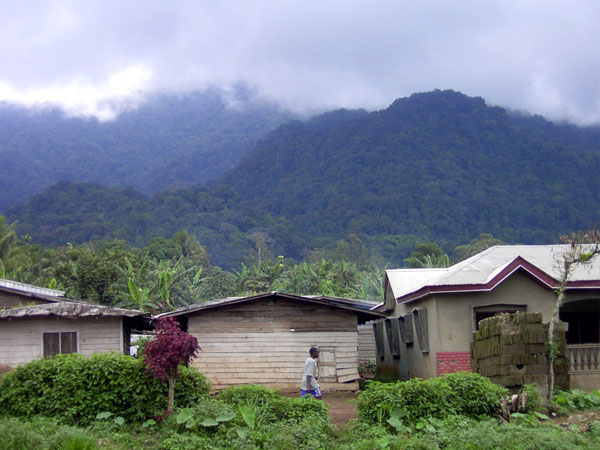 Figure 6. Mt. Kupe as seen from the village of Nyasoso, Cameroon [Photo B. Gill]


Mt. Kupe is in vicinity of 2,000 meters elevation and supports luxuriant rain forest. This is among, perhaps, five of the most famous birding spots in the whole of Africa and a number of quality birdwatchers' reports are available on the Internet for planning trips. Peter Nsonge (peternsonge@yahoo.ca) is a University degree-holding guide who can take visitors on, or around, Mt. Kupe.
---

Figure 7. Winkler funnels extracting invertebrates from the forest litter on Mt. Kupe, Cameroon [Photo B. Gill]


Rain occured daily and this plastic roof was essential. Surprisingly there is no running water in the vicinity of this 1550m elevation camp (also called Max' camp) and one of the porters was employed to bring water every other day. This turned out to be not necessary, as we used this blue bucket to collect rainwater from the plastic roof.
---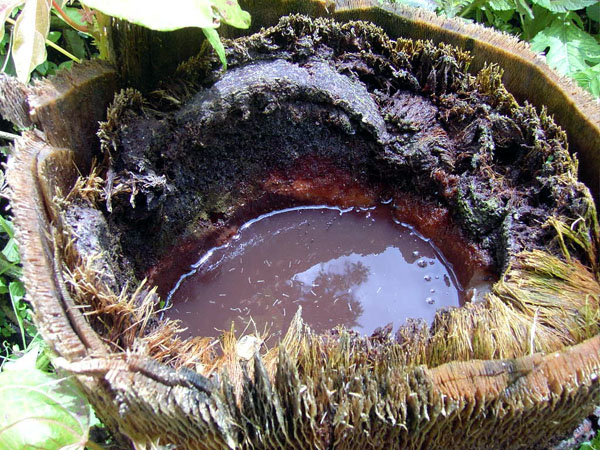 Figure 8. Broken trunk of a tree on Mt. Kupe, Cameroon[Photo B. Gill]


Natural water reservoirs, like this one, provide breeding ground for a number of aquatic insects, including mosquitoes. There were remarkably large rove beetles (Staphylinidae) fishing for these larvae from the edge of this pool.
---

Figure 9. Police shake-up on the "Frendship bridge" on Douala-Bouea road separating French- and English speaking Cameroon [Photo B. Gill]


Gendarmes on roadblocks can be seen with regularity every 30 to 40 kms of road; sometimes more often. Identification papers have to be shown and authority exercised. These roadblocks are no real hassle for the traveler.
---

Figure 10. Oil palm plantations and Mt. Lower Cameroon as seen from the road at the village of Bakingili, Cameroon [Photo B. Gill]


There is a tarmac road going south of Mt. Cameroon along the Atlantic ocean. At one spot it is broken by the lava flow from one of the most recent eruptions. Black rocks on the left of this picture is a part of this lava. The mountain in the center is Lower Cameroon with exceedingly steep slopes; the main cone of Mt. Cameroon is not visible behind the fog. Oil palm plantations gradually erode their way from the roadside up the slope. At this point we had to cross about 1-2 km of plantations before entering remarkably beautiful and rich forest. The village of Bakingili is some 2 km west from this point, on the opposite side of the lava field. Godlove Neba is a University degree-holder to help you to get around Mt. Cameroon.
---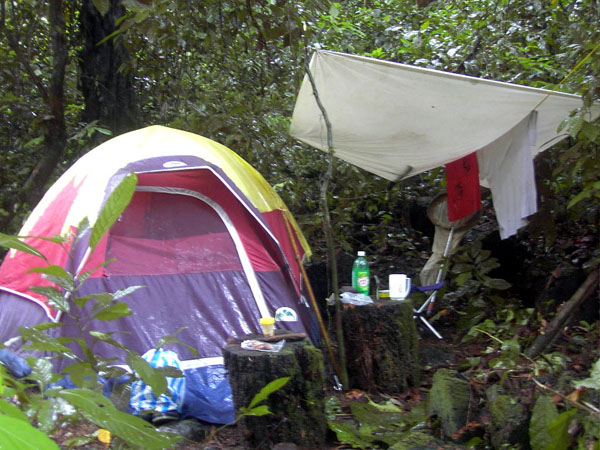 Figure 11. Our camp in the forest of Mt. Cameroon at Bakinglili [Photo B. Gill]



Camping directly in the forest proved itself as the most comfortable and convenient way for doing beetle research, which starts right outside the tent. One should be prepared for some rain; in this forest there was more rain than sunshine.
---

Figure 12. Island and mountain of Bioko (formerly Fernando-Po), Equatorial Guinea [Photo B. Gill]



Last day of the trip; drying out and swimming in the Atlantic Ocean in a hotel close to Bakingili. The mountain cone in the center is the island and Mt. Bioko (formerly Fernando-Po), a part of Equatorial Guinea. Oil reserves were recently discovered around this island and we were told that there is a direct flight weekly from Houston Texas that carries oil-related workers.
---
Acknowledgement:

Dr. Pius Tamanji (A.v Humboldt Fellow), our host in Douala

Dr. Emmanuel C. Suh (A.v Humboldt Fellow), our host in Buea

William Tamanji, our host in Bamenda

Neba Godlove A., our host in Buea and at Bakingili

Dr. Georges Chuyong, our host in Buea
---
My funding for this trip originated from R.J.H. Hintelmann Scientific Award for Zoological Systematics established by Mrs. Elisabeth Hintelmann in memory of her late husband Robert J. H. Hintelmann.
---