Meligethes (Clypeogethes) subaeneus (Nitidulidae: Meligethini) - atlas of sap beetles of Russia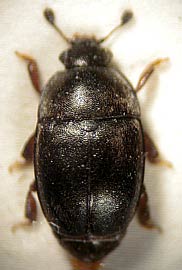 Meligethes (Clypeogethes) subaeneus - Germany, specimen from collection of A. Herrmann (photo by A. Herrmann)
References:
Кирейчук А.Г. 1992. Сем. Блестянки - Nitidulidae.; В кн.: Определитель насекомых Дальнего Востока, Ст-Петербург, Наука, Т. 3, часть 2: 114-210.
Якобсон Г.Г. 1915. Жуки России и Западной Европы. 11 часть. - Санкт-Петербург: Издание А.Ф.Девриена - 1915 - С. 865-1024.
Audisio P., Jelinek J., Mariotti A., De Biase A. 2000. The Coleoptera Nitidulidae and Kateretidae from Anatolian, Caucasian, and Middle East regions. Biogeographia. 21 (Biogeographia dell'Anatolia): 241-354.
Kirejtshuk A.G. 1997. New Palaearctic nitidulid beetles, notes on synonymy and systematic position of some species (Coleoptera, Nitidulidae). Zoosystematica Rossica, Vol. 6 (1/2): 255-268.
Reitter E. 1919. Nitidulidae und Byturidae. Bestimmungs-Tabelle der europaeischen Coleopteren, 86 (Verhandlungen des naturforschenden Vereines in Bruenn, 56): 1-104.
Another sources - vgl. "Sap beetles (Nitidulidae)" in part "Scientific essay about on beetle families".
---