Welcome to Calodema
This is the website of Dr Trevor J Hawkeswood, biologist & author of scientific papers, books & other publications on Australian, New Guinean & other overseas plants and animals.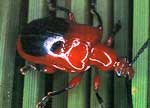 The aim of this website is to provide scientists and others an insight into the life and work of TJ Hawkeswood and to make available some of his published research as gratis. Files of other authors including Dr Dewanand Makhan, R.W. Wells, M. Peterson and other scientists are also available.

TJ Hawkeswood has published work in the following fields: mycology, botany, arachnology, entomology, herpetology, ornithology and mammalogy.

This website will also have available for purchase various natural history books and text books from the private library of TJ Hawkeswood. The website will also allow feedback from naturalists, biologists and others.



List of Dr. Hawkeswood's Publications

Cited Papers & Books
---
Special Environmental Report

Report on field inspections of the vegetation and rare species at 7 Dobell Place, Kenthurst, New South Wales - with accompanying notes on an adjacent proposed development
---
Book Review: Barker, S. (2006). Castiarina - Australia's richest jewel beetle genus. Australian Biological Resources Study, Canberra
Available: Thursday 22 May, 2008
Observations on some Buprestidae (Coleoptera) from the Blue Mountains, N.S.W.
Available: Wednesday 21 May, 2008
Studien zu Biologie und Verhalten des australischen Schildkдfers Hoplionota dorsalis Waterhouse (Coleoptera: Chrysomelidae)
Available: Tuesday 13 May, 2008
Reproduction of letter to the Minister of Employment, Education and Training in the R.J. Hawke Labor Government, Mr. John Dawkins, by T.J. Hawkeswood concerning employment opportunities in science and related matters in Australia
Available: Tuesday 13 May, 2008
Observations on some Buprestidae (Coleoptera) from the Kanangra-Boyd area, New South Wales, Australia
Available: Tuesday 06 May, 2008
Notes on the sexually dimorphic jumping spider Bavia ludicra (Keyserling) (Arachnida: Salticidae)
Available: Tuesday 06 May, 2008
Notes on the jumping spider Breda jovialis (Koch)(Arachnida: Salticidae)
Available: Tuesday 06 May, 2008
Notes on the biology and food plants of the Australian hawk moth Theretra latreillii (Macleay)(Lepidoptera: Sphingidae)
Available: Wednesday 30 April, 2008
Review of the biology and host plants of the Dendrobium Beetle Stethopachys formosa Baly (Coleoptera: Chrysomelidae)
Available: Tuesday 29 April, 2008
A record of Thomisus spectabilis Dolesch. 1859 (Araneida: Thomisidae) feeding on a scarab beetle
Available: Tuesday 29 April, 2008
Book Review. "Travels and Adventures in South Australia 1836-1838" by W.H. Leigh
Available: Tuesday 29 April, 2008
Collection and export of Australian Insects: An analysis of legislative protection and trade to Europe
Available: Sunday 20 April, 2008
Reptiles and amphibians recorded from a sandstone habitat bounded by Beaumont and Mundowi Roads, Mt. Kuringai, New South Wales, Australia
Available: Wednesday 16 April, 2008
A new larval host plant for the Australian longicorn beetle Adrium artifex (Newman, 1842) (Coleoptera: Cerambycidae)
Available: Tuesday 15 April, 2008
Chauliognathus nobilitatus (Erichson), an Australian cantharid beetle (Coleoptera: Cantharidae)
Available: Tuesday 15 April, 2008