Catalogue of antlion collection (Neuroptera, Myrmeleontidae)
V.A. Krivokhatsky

The database in DBF format includes (10.10.2003) 3900 records of 10000 collection specimens of ant lions of the World deposited in different collections and examined by the author. Every record includes data on a single specimen or a series of specimens of one species with the same label of locality.
ZI includes mostly records with the data of the collection of the Zoological Institute, St.Petersburg, Russia (ZIN). Synonyms and combinations for these pages are taken from the taxonomic database.
Euroleon nostras (Fourcroy, 1785)
Euroleon nostras (Fourcroy, 1785) (comb.: Navas, 1920)
= Euroleon europaeus (McLachlan, 1873) (genotype: Esben-Petersen, 1918)
= Myrmeleon europaeus McLachlan, 1873 (syn.: Navas, 1907)
= Formicaleo nostras Fourcroy, 1785
= Myrmeleon nostras (Fourcroy, 1785) (comb.: Brauer, 1885)
= Euroleon nostras regia Navas, 1919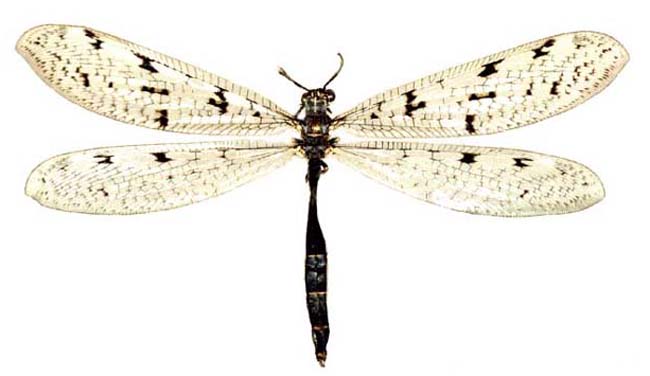 Euroleon nostras (Frcr.), female, Dzhanybek, 13 VIII 2000 (V. Beiko)
?: Boleso-Peho, ? (J. Lacso) - 0M, 2F (HNH)
?: Nagybanya, 15.08.1911 (anonym) - 1M, 0F (HNH) (Holzel det.)
AM: Megri [Migry], 20.09.1963 (anonym) - 0M, 1F (ZMN)
AM: Megri [Migry], 06.08.1976 (A. Lisetskyi) - 0M, 1F (ZIN) (kz-94a)
AM: Megri distr. Aigedzor, 1100 m, 08.09.1977 (A. Lisetskyi) - 7M, 4F (ZIN, KES) (kz-94a)
AM: Niuvada, Megri distr., 28.09.1951 (I. Darevskyi) - 0M, 1F (ZIN) (kz-94a)
AM: Spitak, 19.08.1974 (A. Prisnyi) - 1M, 0F (ZIN) (kz-94a)
AT: Austria, ex larvae, ? (Erberhh) - 0M, 1F (ZIN) (kz-94a)
AZ: Etakchi, Lenkoran' Distr., 03.07.1909 (anonym) - 1M, 0F (ZIN) (kz-94a)
AZ: Zuvand, 05.08.1968 (V. Vedmederya) - 1M, 0F (ZIN) (kz-94a)
BG: Arkutino, 25.09.1980 (L. Peregovits) - 0M, 1F (HNH)
BG: Nessebar, 23.08.1962 (J. Soffner) - 1M, 0F (ZIN) (kz-94a)
BG: Pirin, Goze-Dolche Valley, 25.08.1988 (M. Volkovitsh, Sakalyan) - 0M, 1F (ZIN) (kz-94a)
CH: Cudrefin, Canton de Vand, Switzerland, 06.09.1972 (P.H. Arnaud) - 0M, 1F (CAL) (Stange det.)
DE: Berlin Uhg., 07.02.1915 (G. Gunther) - 1M, 1F (HNH)
GE: Pizunda, 1947 (E. Malysheva) - 0M, 1F (ZIN) (kz-94a)
GE: Sukhumi, 03.08.1932 (O. Tshernova) - 0M, 1F (ZIN) (kz-94a)
GE: Sukhumi, 18.08.1932 (B. Rohdendorf) - 0M, 1F (ZIN) (kz-94a)
HU: Balaton L., Jenyol, 30.07.1976 (Korbos) - 1M, 0F (HNH)
HU: Balaton L., Tihany peninsula, ex larvi 10.08.2001, 02.10.2001 (V. Krivokhatsky) - 0M, 1F (ZIN) (alkohol)
HU: Budapest, Citadella, ex larvi 13,15.06.2001, 10.09.2000 (V. Krivokhatsky) - 1M, 1F (ZIN) (alkohol)
HU: Budapest, Kis-Svab-hegy, ex larvi 16.06.2001, 16.09.2000 (V. Krivokhatsky) - 0M, 1F (ZIN) (alkohol)
HU: Csopak, 26.09.1960 (Fenycsapda) - 1M, 0F (HNH)
HU: Dunaharaszti, 25.07.1994 (Gy. Sziraki) - 1M, 0F (HNH)
HU: Dunaharaszti, 20.09.2000 (V. Krivokhatsky) - 1M, 0F (ZIN) (cocoon 10.04; ex.l. 18.05.2001)
HU: Kamardi, 10.08.1963 (S. Ujelyi) - 0M, 1F (HNH)
IT: Italia, ? (Pape) - 0M, 1F (ZIN) (kz-94a)
RSDA: Gunib, 25.07.1924 (M. Rjabov) - 2M, 0F (ZIN) (kz-94a)
RSDA: Karabudakh-Kend, 13.08.1923 (M. Rjabov) - 1M, 1F (ZIN) (kz-94a)
RSDA: Unzukul', 18.08.1972 (V. Garazhin) - 0M, 1F (ZIN) (kz-94a)
RSKB: Staryi Lars, 05.08.1923 (M. Rjabov) - 1M, 0F (ZIN) (kz-94a)
RSKB: Terek Distr., Egochkal near Dzherakhan, 09.08.1927 (M. Rjabov) - 0M, 1F (ZIN) (kz-94a)
RSKD: Arkhipo-Osipovka, 19.09.1998 (V. Schurov) - 0M, 1F (ZIN)
RSKD: Bol'shoi Utrish, Abrau, 19.08.2003 (V. Schurov) - 0M, 1F (ZIN)
RSKD: Chamlykskaya v., ex larvarum VII-VIII. 1993, 22.06.1993 (V. Krivokhatsky) - 2M, 2F (ZIN) (k-93b; kz-94a; k-94d)
RSKD: Gelendzhik, 10.09.1976 (anonym) - 0M, 1F (ZIN) (kz-94a)
RSKD: Markatkh Range, 12.08.1998 (V. Schurov) - 0M, 1F (ZIN)
RSKD: Shirokaya Balka, Novorossiisk env., on light, 06.07.2002 (V. Anikin) - 1M, 0F (ZIN)
RSKQ: Zhigulevskyi Nat. Res., 12.08.1939 (E. Novoderezhkin) - 1M, 0F (ZIN) (kz-94a)
RSST: Kislovodsk, Kolzo Mt., 07.08.1923 (M. Rjabov) - 0M, 1F (ZIN) (kz-94a)
RSST: Kislovodsk, Kolzo Mt., ex larvarum 8-10.07.1993, 22.05.1993 (V. Tikhonov) - 2M, 1F (ZIN) (k-93b; kz-94a; k-94d)
RSST: Novomarjevskaya, ex larvarum 3.08.94, 04.07.1994 (V. Krivokhatsky) - 1M, 2F (ZIN) (k-94d)
RSST: Novomarjevskaya, ex larvarum 6-23.08.93, 24.06.1993 (V. Krivokhatsky) - 5M, 2F (ZIN) (k-93b; kz-94a; k-94d)
RSST: Piatigorsk, Mashuk Mt., 28.07.1922 (M. Rjabov) - 1M, 6F (ZIN) (kz-94a)
RSST: Piatigorsk, Mashuk Mt., 15.07.1925 (N. Egorov) - 2M, 2F (ZIN) (kz-94a)
RSST: Stavropol, 10 km. S., v. Tatarka, ex larvarum 07-08.1994, 06.07.1994 (V. Krivokhatsky) - 4M, 5F (ZIN) (k-94d)
RSVO: Dzhanybek, 13.08.2000 (V. Beiko) - 0M, 1F (ZIN)
TRA ?: Asia minor, ? (Dr. Lendel) - 0M, 1F (HNH) (Holzel det.)
UKCK: Kanev, 04.08.1939 (E. Malysheva) - 2M, 9F (ZIN) (kz-94a)
UKCK: Kanev, Dnepropetrovskyi Nat. Res., 23.08.1939 (S. Malyshev) - 1M, 0F (ZIN) (kz-94a)
UKCK: Kanevskyi Nat. Res., 01.08.1981 (A. Zakharenko) - 0M, 4F (ZIN) (kz-94a)
UKDO: Belokuzminovka v., 18.08.1983 (P. Pergalo) - 0M, 1F (ZIN) (kz-94a)
UKDO: Belokuzminovka v., 17.07.1986 (P. Pergalo) - 1M, 0F (ZIN) (kz-94a)
UKKA: Gaidary, Zmiev Distr., 06.08.1963 (A. Zakharenko) - 1M, 4F (ZIN) (kz-94a)
UKKH: Askania-Nova, 15.07 (anonym) - 0M, 1F (ZIN) (kz-94a)
UKKH: Uryupinsk, 25.07.1996 (V. Mikhailov) - 0M, 1F (KES)
UKKR: Belbek, Sevastopol distr., 11.08.1897 (N. Kuznetzov) - 0M, 1F (ZIN) (kz-94a)
UKKR: Kara-Dagh, 10.09.1990 (Yu. Budashkin) - 2M, 3F (ZIN) (kz-94a)
UKKR: Kara-Dagh, 10.08.1995 (M. Filatov) - 0M, 1F (KES)
UKKR: Kara-Dagh, 6 larvae, 27.05.1990 (V. Krivokhatsky) - 0M, 6F (ZIN) (kz-94a)
UKKR: Kara-Dagh, ex l. 11.09.2001, 31.07.2001 (T. Volkovich) - 0M, 1F (ZIN) (alcohol)
UKKR: Kara-Dagh, ex larvae VIII 1976, 15.06.1976 (A. Zakharenko) - 0M, 1F (ZIN) (kz-94a)
UKKR: Kazantip, ex larvarum 08-09.1994, 28.07.1994 (V. Krivokhatsky) - 1M, 2F (ZIN) (k-94d)
UKKR: Kekeneis, 24.08.1924 (A. Kiritshenko) - 0M, 1F (ZIN) (kz-94a)
UKKR: Kertsh, 1907 (A. Kiritshenko) - 0M, 1F (ZIN) (kz-94a)
UKKR: Koreiz, 15.08.1928 (N. Filippova) - 0M, 1F (ZIN) (kz-94a)
UKKR: Mukholatka, 05.07.1900 (V. Ageenko) - 0M, 2F (ZIN) (kz-94a)
UKKR: Nauchnyi v., Bakhchisarai Distr., ex larvarum VII 1990, 24.05.1990 (V. Krivokhatsky) - 3M, 4F (ZIN) (k-93b; kz-94a)
UKKR: Nikitskyi Bot. Garden, 10.09.1886 (Yaroshevsky) - 2M, 3F (ZIN) (kz-94a)
UKKR: Sevastopol, v. Alsu, 17.08.1908 (V. Pliginski) - 0M, 2F (ZIN) (kz-94a)
UKKR: Simferopol, ? (Stev.) - 0M, 1F (ZIN) (kz-94a)
UKKR: Simferopol, 23.08.1991 (K. Efetov) - 0M, 1F (GRI)
UKKR: Simferopol, 12 verst of, 20.07.1902 (anonym) - 0M, 1F (ZIN) (kz-94a)
UKKR: Yalta, Chukumar, 1908 (Benkendorf) - 0M, 1F (ZIN) (kz-94a)