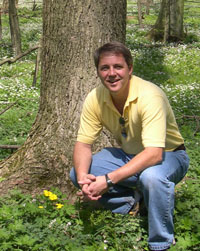 Doug Landis: I am an insect ecologist conducting research at the interface of basic and applied ecology. Recently, most of my current projects center on improving the theory and practice of conservation biological control or on the ecology and management of invasive species. I am interested in the role of landscape structure in influencing the effectiveness of natural enemies and in the interactions of generalist and specialist natural enemies.
My responsibilities at MSU include research (70%), teaching and student advisement (20%), and Extension/outreach (10%). I teach a graduate level course in Biological Control (ENT 848) in spring of odd numbered years. I also help direct the Invasive Species Initiative at MSU.
I coach youth soccer and enjoy most outdoor activities and. I am very interested in native plant communities and have initiated a long-term project to reconstruct representative pre-settlement plant communities on my small Ingham County farm. My family and I are restoring a 5-acre wetland and have initiated work on an adjacent prairie reconstruction.
Mary Gardiner: I am a Ph.D. student working with Dr. Doug Landis. I began my program at MSU in the fall of 2004 (click here for a copy of my CV). I am interested in many areas of entomological research including invasive species ecology, arthropod plant interactions, predator-prey interactions, and community ecology. I am also an avid spider enthusiast.
I grew up in Northport, Michigan and graduated from the University of Michigan in May of 1999, where I majored in Resource Ecology and Management. The following fall I began a M.S. program at the University of Idaho studying two-spotted spider mite on hop. I compared the diversity and abundance of arthropods on managed and unmanaged hop and found that species richness and evenness were diminished in managed sites where pesticide use and other agricultural practices negatively affected biological diversity. More surprising, the two-spotted spider mite, a key hop pest, was just as abundant on managed hop (despite aggressive pesticide use) as on unmanaged hop. I also studied how a predatory mite locates spider mites on hop, and was first to report that N. fallacis can detect volatile synomones from spider mite-damaged plants. After completing my M.S. degree I worked as a Research Support Scientist at the University of Idaho for two years studying the lethal and sub-lethal effects of pest management practices of pest management on leafcutting bee biology and pollination effectiveness. I also studied spider communities in alfalfa seed and hay.
Here at Michigan State University, I am studying the soybean aphid, Aphis glycines Matsumura, which has become a principal arthropod pest of soybean since its first detection in Wisconsin in 2000. This species threatens soybean production through feeding damage and virus transmission. A diverse community of arthropod predators feed on soybean aphid throughout its invasive range. As part of my Ph.D. project, I am identifying the effects of landscape complexity on the diversity and abundance of these arthropod predators and measuring the impact of natural enemy guilds on soybean aphid populations throughout the north-central states of Michigan, Wisconsin, Minnesota and Iowa. I am also measuring the impact of intraguild predation on predator behavior and soybean aphid population dynamics.
In my spare time I enjoy gardening, snowboarding, downhill and cross country skiing, and spending time with my husband. We just bought a mid 60's era ranch and enjoy collecting vintage furniture to restore its retro charm.