Atlas of minute mud-loving beetles (Georissidae) of Russia - project by A.G. Kirejtshuk and A.Herrmann
The family Georissidae includes 1 genus with about 20 species, 5-7 of which registered or may be registered in Russia.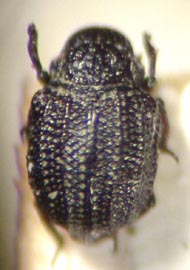 Georissus (Georissus) caelatus
(photo by A. Herrmann)
References:
Кирейчук А.Г. 2001. Coleoptera (Жесткокрылые, или Жуки). В кн.: Определитель пресноводных беспозвоночных России и сопредельных территорий. Том 5. СПб, "Наука". С. 91.
Лафер Г.Ш. 1989. Семейство Georissidae. В кн.: Определитель насекомых Дальнего Востока СССР (Том III, Часть 1).- Ленинград, " Наука", c. 293-294.
Hansen, M. 1991. The hydrophilid beetles: Phylogeny, classification and a revision of the genera (Coleoptera, Hydrophiloidea). Biologiske Skrifter, Kongelige Danske Videnskabernes Selskab, 40: 1-367.
Hebauer F. & Klausnitzer B. 2000. Insecta: Coleoptera: Hydrophyloidea: Georissidae, Spercheidae, Hydrochidae, Hydrophilidae (exkl. Helophorus). In: Brauer A. Suesswasserfauna von Mitteleuropa. 20: 13-16.
Steffan, A. W. 1979. 43. Familie: Georissidae. In: H. Freude, K. W. Harde and G. A. Lohse (eds.), Die Kaefer Mitteleuropas. Band 6. Diversicornia. Goecke & Evers, Krefeld. 294- 296.
Zaitzev, P. 1910. Pars 17. Dryopidae, Cyathoceridae, Georyssidae, Heteroceridae. IN: S. Schenkling (ed.), Coleopterorum Catalogus. W. Junk, Berlin, 68 pp.
---
---